Veterans Day | Honoring All Who Served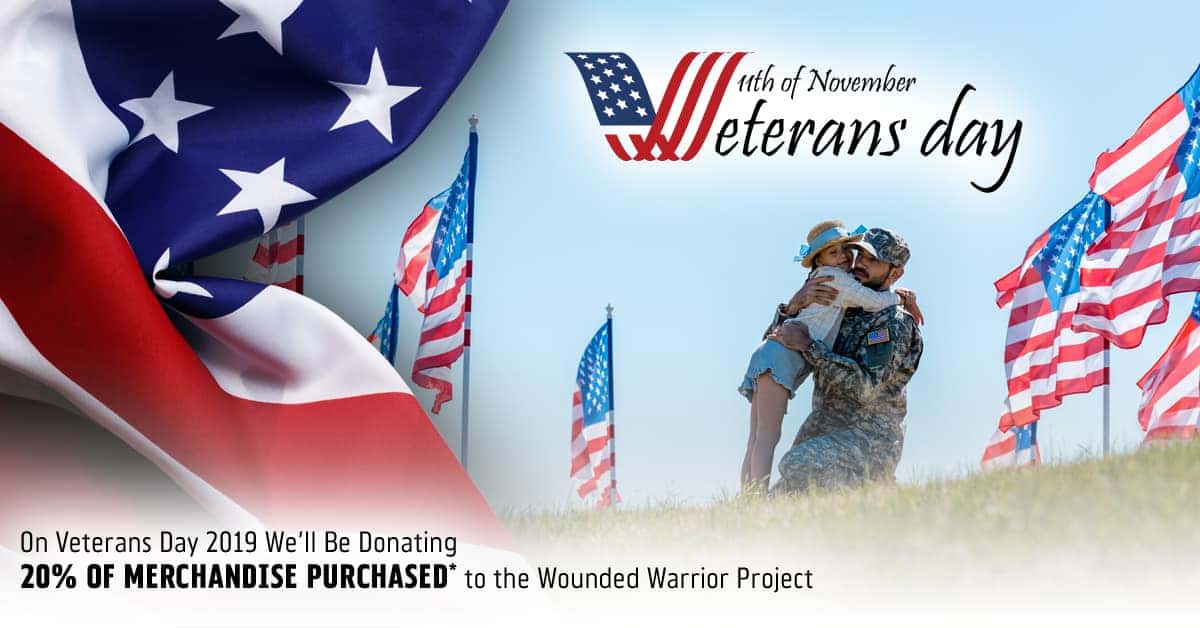 Veteran's Day is Monday, November 11, 2019
20% of Veteran's Day Parts & MotorClothes Sales
Benefiting Wounded Warrior Project
In honor of veterans we will donate 20% of Parts, Accessories and MotorClothes purchased on Veteran's Day, Monday, November 11, 2019 to Wounded Warrior Project.
Help us support veterans as we collect register round-up donations for Wounded Warrior Project all weekend long!
---
*11/11/19 dealership will donate 20% of pre-tax MotorClothes, general merchandise, parts and accessories sales, up to $1,000.00. Excludes sales tax, prior purchases, motorcycles, parts to service components and labor.
---
Wounded Warrior Project / Harley-Davidson Collaboration Items
Additionally, all year round, the Harley-Davidson Motor Company donates 10% of the sales of Wounded Warrior Project collaboration items to WWP. Harley's commitment to WWP is part of H-D Operation Personal Freedom to improve the lives of servicemen and women who are living with PTSD.
Wounded Warrior Project is a nonprofit whose mission is to honor and empower Wounded Warriors. WWP serves to raise awareness and enlist the public's aid for the needs of severely injured service men and women; help severely injured service members aid and assist each other; and provide unique, direct programs and services to meet their needs.
For more information, please call 877 TEAM WWP (832-6997) or visit woundedwarriorproject.org.
Veterans and their loved ones in crisis should call 1-800-273-8255 and Press 1 or chat online at VeteransCrisisLine.net to receive free, confidential support from the VA Veterans Hotline 24 hours a day, 7 days a week, 365 days a year, even if they are not registered with VA or enrolled in VA health care.
---
Thank-you to all who have served so we may enjoy our many freedoms here at home.
---
Harley-Davidson & Wounded Warrior Project
Stars & Stripes Hoodie
Part#99057-17VM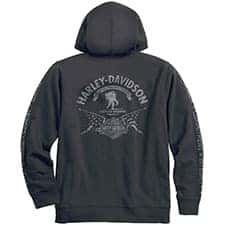 ---
Harley-Davidson & Wounded Warrior Project
Stars & Stripes T-Shirt
Part#99058-17VM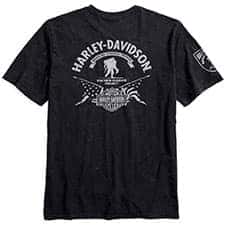 ---
Harley-Davidson & Wounded Warrior Project
Stars & Stripes Long Sleeve Tee
Part#99059-17VM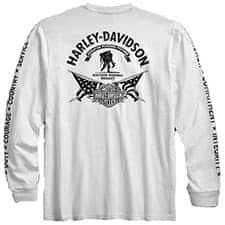 ---
Harley-Davidson & Wounded Warrior Project
Women's Stars & Stripes Hoodie
Part#99102-17VW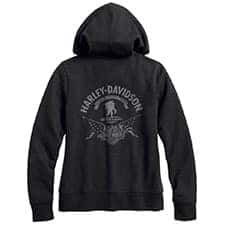 ---
Harley-Davidson & Wounded Warrior Project
Women's Stars & Stripes T-Shirt
Part#99060-17VW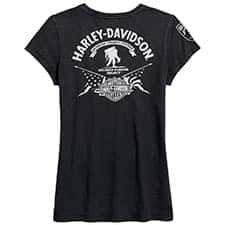 ---
Harley-Davidson & Wounded Warrior Project
Women's Ballcap
Part#99559-16VW