Introducing the NEW Street Rod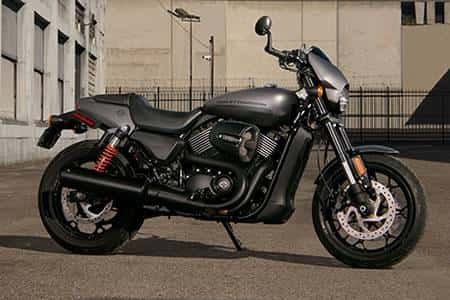 With its raw, authentic, dark custom looks, the Street Rod™ motorcycle is a Harley-Davidson Street® model with a performance-tough attitude for today's urban streets.
Engineered with the belief that thrill comes not only from what you ride, but how you ride, the Street Rod motorcycle is designed for riders craving performance and power, while being quick and nimble when navigating city streets. At the top of this bike's enhancements is a new High Output Revolution X™ 750cc engine, producing up to 18 percent more horsepower and 8 percent more torque as compared to a Harley-Davidson Street® 750 model.
Inspired by pure Harley-Davidson quality, additional performance and styling enhancements include: 
Enhanced chassis with improved suspension and greater lean angle for sportier handling
A flat, drag-style handlebar putting the rider in a fist-forward posture on the bike
A new seat shape to fit the rider's contour and seat height raised by 3.7 inches, to 29.4 inches
New forged foot controls and aluminum foot pegs situated for a comfortable seating position and also making it easy for riders to get feet down to the ground at stops
17-inch front and rear Split 7 Spoke Black Cast Wheels and new Michelin Scorcher 21 radial tires
Dual 300mm-diameter front disc brakes with ABS (optional in U.S.)
New color-matched speed screen, and a short aggressive street fighter-inspired tail
LED tail lamp and turn signals
Available in three color options, Charcoal Denim, Olive Gold and Vivid Black, Street Rod™ pricing starts at $8,699 (MSRP) for black and $8,994 (MRSP) for colors.
BE ONE OF THE FIRST TO RIDE THE STREET
® 
ROD™
Sign-up to be contacted when it arrives!