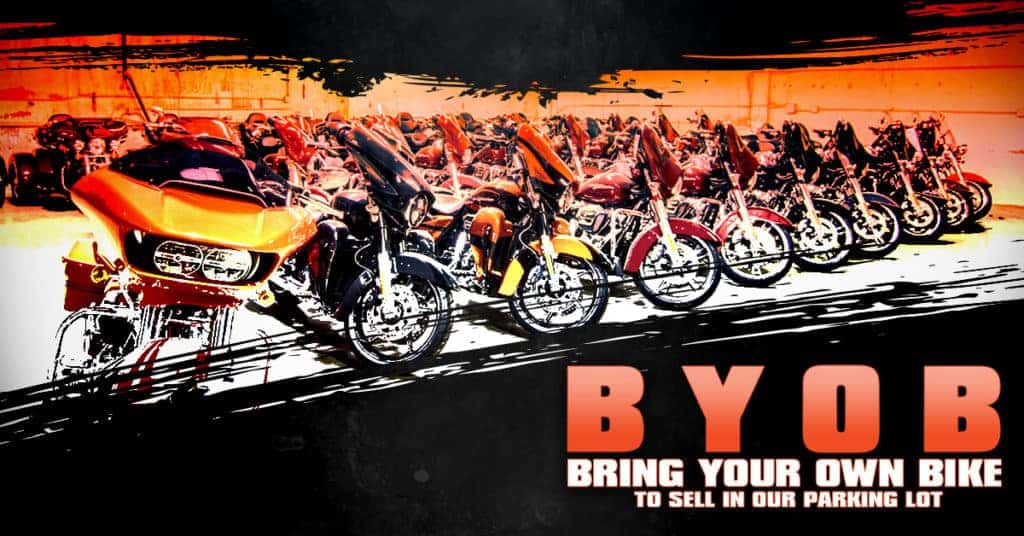 BYOB: Bring Your Bike to SELL in Our Parking Lot!
SAT, SEPTEMBER 14TH | 9AM-6PM
Display your motorcycle for sale at our lot!
Thinking of selling your motorcycle?
Reach more buyers in the BYOB Showcase on our lot!
Thinking of buying a motorcycle?
Check out a HUGE selection of motorcycles in one spot!
How much does it cost to display my bike?
Spaces are FREE!
Have a buyer for your Harley, but they need a loan?
Ask us about the Harley-Davidson Rider-to-Rider Financing Program.* Financing available to qualified buyers who are buying a used motorcycle from a private party. We can help you or your buyer obtain a motorcycle loan and give you peace of mind knowing Harley-Davidson financial experts are involved in your sale.

Interested in selling, but don't want to wait til our next BYOB event?
Contact Us We're often looking for used motorcycles for our inventory.
---
Sign up to save your spot!
---
*The Harley-Davidson Rider-to-Rider Financing Program is offered through Eaglemark Savings Bank (ESB), a subsidiary of Harley-Davidson Financial Services (HDFS).