2020 Harley-Davidson Softail Breakout 114 in N. Billerica, MA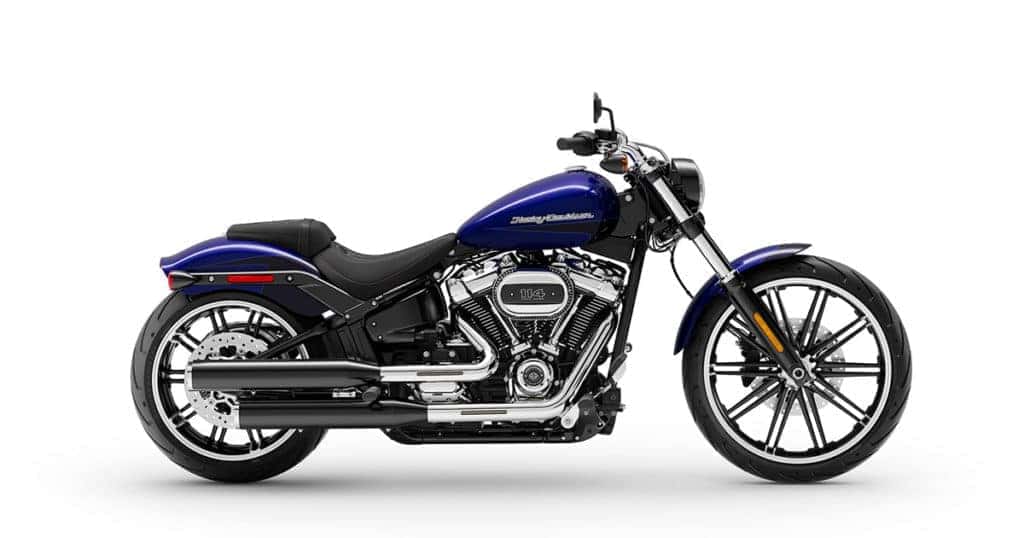 You're an alpha wolf among sheep, and it's time to hit the road. Climb into the saddle of the 2020 Harley-Davidson Softail Breakout 114 and go for the ride of a lifetime. This bike is all about long, lean muscle with a hard, modern edge. If you demand attitude, this chopper delivers. If you want to be seen and respected, then there's only one choice. Get the only bike with show-stopping good looks from handlebars to tail. Let's get to know the iconic new Harley-Davidson Softail Breakout 114.
Paint Options
The Harley-Davidson 2020 Breakout 114 is a powerful, contemporary machine that's available in a palette of seven eye-catching colors. Blending in is not an option on the back of a Harley Davidson motorcycle, so pick out something bold and brazen.
Choose from the classic vivid black, a midnight blue, the barracuda silver, river rock gray denim, a performance orange, and the stiletto red color schemes. Go all-out with the top-end zephyr blue with black sunglo accents. This bike is your pride and joy, after all.
Styling (Features)
True to the Harley Breakout's classic drag-bike heritage, it's equipped with a beefy 240mm rear tire and a soft tail frame. This innovative, modern design is lightweight and stiff, to deliver a ride as you'll never experience from the back of your everyday motorcycle.
This chopper's racing-style front cartridge fork offers sophisticated suspension technology with linear damping qualities. The adjustable mono rear shocks allow for dynamic corning, quick acceleration, and braking. The whole set-up is riding on gloss black, Gasser II cast aluminum wheel, both front and back.
Never take your eyes off the road to stay informed. The 2020 Breakout's 2.14-inch LCD digital display gauge is mounted on the riser for easy glances at your speed, fuel, odometer, clock, range, tach, and gear indicators.
Engine
Turn the streets into a thrilling ride; when the light turns green, get ready to gun it. The 2020 Breakout motorcycle's "Big Twin" engine holds true to the dynamic spirit pumping through this ride. It's powered by the Milwaukee-Eight 114 cubic-inch motor that's paired up with a six-speed cruise drive manual transmission. This powerhouse differs from traditional Harley engines as there are four valves per cylinder for a total of eight.
Get 119 pound-feet of available torque for blasting off from a full stop, exploding up the highway on-ramps and merging into traffic. You get all that power, plus the pure excitement of that satisfying rumble you expect from every Harley Breakout cycle, while you enjoy fuel economy estimates of 47 mpg combined. The 3.5-gallon fuel tank sits atop the engine and adds a touch of style to the overall look of this nimble bike.